FAQ
Payment Related Questions
What payment options do you offer?We Accept Payment Via PayPal At The Moment.
Is my credit card and personal information secure using your site? Yes. We implement a variety of security measures to maintain the safety of your personal information. Your personal information is contained behind secured networks and is only accessible by a limited number of persons who have special access rights to such systems, and are required to keep the information confidential. When you place orders or access your personal information, we offer the use of a secure server. All sensitive/credit information you supply is transmitted via Secure Socket Layer (SSL) technology and then encrypted into our databases.
When will my PayPal be billed? Your PayPal will be billed soon after you pay for your orders.
Do I have to pay sales tax? You don't have to pay any other fees except your order shipping fee. But Brazil customers need to provide personal tax ID, so as to ensure the safe arrival of the goods.
A credit you issued has not yet appeared on my PayPal billing statement. How long does this normally take? After the payment, PP page will be immediately displayed transaction records, you can search by log in your personal accounts.
Why Is My Credit Card Rejected?First: We do not accept debit card payments currently.The main Payment is paypal.
Second: Whether the card has sufficient balance.
Third: Whether the credit card you hold has some problems in credibility.
Order Related QuestionsHow to order?1.Login in or Register an account on our website
2. Search items through the search bar or Choose products in the classification
3. Add Items To Cart
4. Proceed To Checkout
5. Place Order
Can I Change My Order informations?Before making the order, you can modify the product information,Before issuing the order, you can modify the logistics information.
When will my order be delivered?TOTAL DELIVERY TIME = PRODUCTION TIME + DELIVERY TIME
Production Time
According to different products, there are different processing times. You can see more details as followings:
• Standard Order: It will take 3-5 business days to produce wigs and hair extensions.
• Lace Front Wigs Order: It will take 5-7 business days to produce your wigs.
• Monofilament Wigs Order: It will take 7-10 business days to produce your wigs.
• Full Lace Wigs Order: It will take 10-13 business days to produce your wigs.DELIVERY TIME
It will take 2-3 business days for you to receive your items.
Can I place rush orders if I want it can be arrived at my desired time?If your required time is reasonable, we can in your completed within the time, but you need to pay urgent fee.
How do I check my order status?Log in the accounts which you have registered on the website, you can view the current status of orders.
Shopping Related QuestionsIs the picture on your website exactly the same as what I'll receive?Theoretically speaking is it!
But we do not rule out the frequency of computer display and the extrusion during shipping bring in some differences. If this happened, we suggest you take care of the wig first then wear it. If you can't do it well, you also can go to a professional hairdresser.
How to find my size or length?Our size chart is next to the ADD TO CART button.We also have size chart at the bottom of the site. Click it and you will have a reference.
How to find my colour?We have colour chart in each product page. We also have colour guide at the bottom of the site. They can give you some reference.
Which style is best for me?Wigs and hairpieces should compliment the shape of your face. If you not sure about which wig style will be most flattering on you, use the following suggestions as a guide to find a wig that works with your face shape. At ewigs.co.uk, we discuss seven different face shapes, diamond, heart, oblong, oval, pear, round, and square, and what wig styles are most appropriate for those face shapes.To determine your face shape, look into a mirror and pull your hair back. Compare your face shape to our illustrations.
DiamondThe Diamond shaped face has wider cheekbones with a narrow chin and forehead. A diamond-shaped face allows for lots of hairstyle options. Diamond shaped faces need a wig styled with fullness or width in the forehead hairline and the lower cheekbones of the face near the chin. Hair should be styled close to the head at the upper cheekbones where the face is broadest. Bands or a layered fringe will disguise a narrower forehead. The fullness at the jawbone with a style such as a bob or a shoulder length cut with jaunty layering to add some movement will give the illusion of a more oval shaped face. Wig styles that tuck in behind the ears also will work well, in addition to showing off your wonderful cheek bone structure.
HeartThe Heart shaped face has a large and wider forehead, high cheek bones, with sometimes a widow's peak hairline, and a narrow v-shaped chin. To soften the forehead width, look for a wig that allows you to bring some hair across it. Keep the hairstyle closer to the head near the eyes and fuller around the jaw, as well as below and in front of the earlobes where additional width is desired. A chin length bob is great for this type of face shape as it makes the jaw area appear wider and more balanced with the rest of your face. Longer, layered hairstyles also work well.
OblongThe Oblong shaped face has an elongated rectangular shape featuring a long straight cheekline. The wig style you choose should add width to help minimize the vertical length of your face. Look for wig styles that are short to medium in length with longer top layers such as wedges and graduated bob cuts. Chin and shoulder length looks that turn under or flutter out also work very well to add width. Straight across bangs, feathered bangs, or half bangs with side parts soften the forehead. Layered styles in medium and longer lengths with wavy and curly textures will flatter the face and neck while obscuring the straight long lines of an oblong face.
OvalThe Oval shaped face has no one area the is more dominant than another. An oval face is well proportioned, with the length of the face longer than the width. The oval face allows for the most versatility in wig choices. Most wig styles whether short or long, straight or wavy are suitable. Therefore, consider your best features such as eyes, checks, or mouth and then accentuate them with your wig style.
PearThe Pear shaped face features a distinctly narrow forehead. The cheekbones and jaw line essentially broaden to showcase a wider look, while the chin adopts a rounded shape. With a pear shaped face it is best to look for wigs that will add volume above the jaw line. Layers create fullness on the upper half of the face. Don't be afraid to show your forehead which draws attention upward and away from a full jaw line. If you have bangs, angle them slightly and tuck them behind the ears to frame the jaw line and draw attention upward. Hair on the sides of your head and at the nape are best set and combed in a pattern close to the head since any style too voluminous will add weight to the bottom of the face.
RoundThe Round shaped face has a round chin and hairline with the widest part of the face through the cheekbones. Wig styles with a fullness and height at the crown, but not at the ears, are a good choice. Off center parts help reduce the roundness. Wigs with short hair styles with a swept-back direction or with hair styles that are longer than chin length should be considered. Wigs which have layering at the top to achieve fullness while keeping the rest of the cut relatively close to the face, will help make your round face shape appear longer and narrower.
SquareThe Square shaped face usually has a strong square jawline with an equally square hairline. Look for wig styles that add height to the top and narrowness at the sides. Height at the crown will elongate the symmetrical square shape. Short-to-medium length wigs, especially with waves or roundness around the face or wispy bangs to soften the angular shape are also good wig choices. Off-center parts with height at the crown look great on square shaped faces. Wearing a wig with layers and wispy looks around the face is another way to soften the shape of your face.
What is the density of the wigs?130%
What is the delivery charge?Our delivery charge is £7 per order. We offer fixed delivery charge for every single order which will be auto-added in the grand total when you send payment, no matter how many items are purchased.
Can I choose custom made?The model shows the best aspect of the wig, so we recommend the wig model wearing to you.If you have some special request indeed, you can tell our customer service and they will convey the information to the our factory.
How are your wigs packaged?After the wigs is done, we will package it with mesh cap. And the outside in a plastic bag. When being to deliver, we amassing outside with packing PACKER good, and pack plastic bags outside.
Do you sell wholesale?Yes. If you have the intension, You can contact us for further discussions.
Do you sell Designer or Brand Name wigs?We sell Brand Name wigs.
Refund & Returns Related QuestionsRETURNSAt our website your complete satisfaction is our top priority. We offer the return instruction as follows.
1.We only accept problems in quality as returning. The reason is that all wigs here are custom made, we produce it as the size and the colour you choose. If you choose the wrong colour or the wrong size and want to return it back, sorry to say that it is unacceptable.
2.If you want to return the item, please email us first to state the problems with 7 days of receipt. We promise that we would give you a satisfaction solution.
3.Any items must be sent back complete with the original package.
4.All packages should be sent via a tractable method. We are not responsible for packages lost in transit.
5.Pay attention to that the original shipping charges are non-refundable.
RefundsIf you want to receive a refund, your unsatisfied items can be partial or full refund depends on the situation.
1.You should state a specific explanation and clear corresponding photographs documenting the reason for the return.
2.Returns will not be accepted without prior approval from Customer Service.
3.Please allow 5-7working days from our receipt of the returned goods for a refund to be processed.
4.You will receive a confirmation email once the transaction has been completed. Please allow up to 7-10 working days for the funds to reflect on your account.
5.The original shipping charges will not be refunded. If you have any questions, or wish to discuss the returns procedure in further detail, please do not hesitate to contact us.
I received my shipment but one of the items is broken, missing or wrong item sent. What do I do?If it is indeed our problems, we will reissue and replacement the item for you. If the item was damaged during transporting, the courier companies need to take some responsibility.
Common Wig Terms
What are the difference among the kinds of Cap Construction?Advantages of Lace Front Wigs
Lace Front Wigs offer the most natural appearance at every angle .Lace Front Wigs can add to your existing hairline and create an impression of the hair growing from the scalp, thereby making it difficult to discern whether the hair on your head is artificial or natural.
Advantages of Full Lace Wigs
Lace Wigs offer the most natural appearance at every angle. They feature hand-tied hair fibers in a poly-silk mesh base at either the front of the wig, or from front to back, creating an undetectable and seamless hairline. Part them in any direction for the ultimate in styling versatility and realism in a wig.
Advantages of Capless Wigs
Capless wigs allow your head to stay cooler than solid capped wigs. This is due to the fact that it is made with less hair and the specific capless construction allows for some air flow to the head and scalp .There are also adjustable straps or hooks at the nape of the neck to secure the wig in place.
Advantages of Mono Wigs Monofilament wigs offer you a cap that is soft to the touch; basically see through and very hard to detect. The monofilament weaving allows each strand of hair to move freely and more naturally.
What is the difference between human hair and synthetic hair?Human hair: more versatility(can be heat styled and coloured),longer durability and custom-styling. The most desirable form, Remy hair, has been cut from a human head of hair, as opposed to residual hair that has fallen or been brushed off.
Synthetic: easy to maintain(wash and wear),less expensive than human hair ,easy to style ,pre-styled to hold its shape. However, it has limitations not found in real hair that range from heating and styling to texture matching.
Choosing between a human hair wig and a synthetic hair is more of personal preference .For example ,a person looking for a wig they plan on wearing everyday and that they can heat-style themselves would choose a human hair wig whereas a person looking for a wig that is easy to maintain and less expensive would choose a synthetic hair.
What is the difference between short and long wigs?Advantages of short wigs
1:Easy to wear and care.
2:It is cheaper than long wigs.
3:It looks very skilful when women wear short wigs
4:It is cool to wear a short wig in summer.
5:It is convenient for working.
Disadvantages of short wigs
It is difficult to care if the hairstyle is complex.
Advantages of long wigs
1:It looks elegant and athletic
2:You can tie it up to change a style
3: It is warm to wear in winter.
4:Easy to care.
Disadvantages of long wigs1: It is expensive
2:It is difficult to wash a long wig
What kind of wigs suitable for cancer patients?We suggest cancer patients to wear human hair wigs, Human hair wigs is close to people's own hair. It is comfortable and natural looking. The main point is more health. If the condition allows, we recommand the human hair mono full lace wigs to you. These wigs are more comfortable, the special hand tied cap construction is the key.
Care InstructionsCaring for your wig, Fall or Comb Add-on.Comb from the top to the bottom may cause losing of the hair, so we recommend our customers to comb a wig from the bottom to the top.
How often should I wash my wig?It's various for different people depending on various factors, like wearing frequency, hair spray, smoke, climate, care treatment, etc. Generally you can wash it every 10-12 wearings or every 4-6 weeks.
How to store your wig?We suggest you to use a wig cap when you take off your wig. In this way, the wig will keep its style.
How to style your wig?You can style your wig by using a comb or hair spray to style your wig. You also can go to a professional hairdresser.
How to Cut your Wig?As well designed as our wigs and hair pieces are, on occasion a little trim or a reshape might be just the thing to ensure the wig / hairpiece sits perfectly with your face shape. Also, lots of the fringes on our wigs are long so that they can be brushed to the side and you may want to change the fringe so that it goes straight across your forehead.If you choose to cut your wig we advise you take it to the hair dressers so that you can put it on and the hairdresser can cut it whilst you are wearing it. We strongly advise against you cutting a piece yourself unless you are a qualified hairdresser . The hairdresser will be able to advise you on what will and won't look good with the style of wig you have purchased.
If you want to bring a new lease of life back into your wig the we advise you follow our 'Care Instructions' as this will make your wig look shinier and healthier.
Can I color my wig?Most styles come in a number of colors, lessening the need to color. While synthetic hair cannot be dyed, human hair wigs can. But it is a tricky process that should be handled by a hair professional only. We recommend only going darker, not lighter -- there is a lot of chemical processing involved in the making of a wig and additional manipulation can cause damage.
Waterproof and using timeAll the wigs can be washed, they also has a waterproof function. But it not means they can be soaked in water for a long time, Long time soaking will damage the wig no matter how good it is.
Using time of human hair wigs:3-4 years
Using time of synthetic wig:6-12 months
NEW BUYERS GUIDENot all new users know how to select a wig that will work best for her/him? We will give you a professional guidance here. In fact, all the wigs are of the following four types. The cut style, the cap size, the material style and the colour style.
Cut StyleEwigs.co.uk helps you to choose a suitable wig. Wearing a stylish and comfortable wig will give you more confidence. We suggest you to search by length, material, cap construction and hairstyle. You can get what you want here.
Cap SizeWhile average size wigs tend to fit about 95% of customers, you will find that quite a few wigs also come in petite and large sizes. Consider that many also have adjustable straps that give up to 1/2" so that you can achieve a comfortable and secure fit. To determine the right size wig for you, measure the circumference of your head from the front hairline, behind your ear, to the nape of your neck, to your other ear and then back to the front hairline. Jot down your measurement then consult the table below. Please note that sizes may vary slightly by brand and that not all wigs are available in all cap sizes.
MATERAILHAIR TYPE:
While you may have preconceived notions about human hair and synthetic hair, the truth is they both have advantages and limitations which make them the right choice in different situations.
HUMAN HAIRPREMIUM & REMY HUMAN HAIR
are the highest quality human hair available
hair cuticles kept running in uniform direction resulting in less tangling
more careful collecting and processing techniques result in higher quality product and contribute to higher price
the most durable hair type
SYNTHETIC HAIRHEAT-FRIENDLY SYNTHETIC HAIR
offers more styling versatility (hot tools may be used - max 350°)
can be more challenging to style than human hair
special care must be taken to avoid tangling
colors may vary from non-heat-friendly synthetic hair
less durable than regular synthetic hair — 2-3 months with proper care
CAP FEATURESDifferent cap constructions each have a specific method of attaching hair to the cap each with its own set of advantages.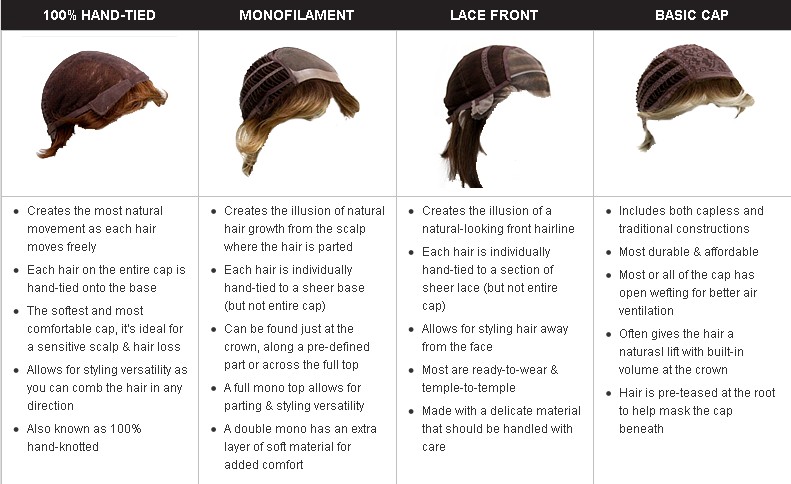 COLOURAs all wigs offer a rang of colour choices. It shows you different looks on different colours and you can make a decision easily. Both human hair and synthetic wigs have different colours and you can have a reference when you don't know which one to choose.
Although we have provided the wigs colour chart for your reference, it's still a little hard to figure out a perfect match to your own hair colour just by judging the picture on screen. We suggest you to pick the colour which you think will be a close match (either slightly light or dark) and try blending it with your own hair. This will give a more natural look, a unique variation and more depth and dimension to your own hair.